The National Agricultural Aviation Research & Education Foundation (NAAREF) was formed in 1982 as a non-profit organization to promote and foster research, technology transfer and advanced education among aerial applicators, allied industries, government agencies and academic institutions.
NAAREF is totally supported by charitable donations from individuals and companies wishing to invest in the future of agricultural aviation. In addition, NAAREF seeks grants from government agencies and private foundations on behalf of the aerial application industry's educational efforts.
In 1996, NAAREF instituted the Professional Aerial Applicators' Support System (PAASS). PAASS is a program that educates pilots on key safety and drift minimization issues important to flying, modern agriculture and crop protection.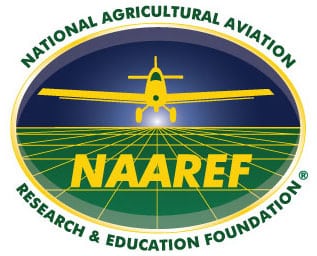 In 2002, NAAREF introduced the Compaass Rose series of round table discussions designed to provide professional support and direction to new-to-the-industry agricultural aviation pilots. The goal is for the participants to enhance their own knowledge, continue to gain agricultural aviation experience, and improve their individual professionalism.
NAAREF is a 501(c)(3) non-profit foundation accepting tax-deductible contributions, donations, and government grants. All information and services are open to the general public.
The NAAREF Board of Directors is composed of six NAAA Operator members; three individuals in any NAAA membership category (Except Operator); and the current President of the NAAA. The NAAA Board of Directors appoints NAAREF Board members.The NAAREF Board of Directors determines PAASS Program policy, establishes direction, coordinates activities among committees, appoints all committee members and chairs, develops budgets and recommends fund-raising goals. NAAREF retains primary fiduciary responsibility and is updated on PAASS program progress at each of its board meetings and by periodic correspondence from Committee Chairs and NAAA Staff.
Perry Hofer
President
Doland Aerial Spraying
Doland, SD
Darrin Pluhar
Vice-President
Plu's Flying Service
Ekalaka, MT
Dominique Youakim
Secretary
Aerinova Aerial
Mattoon, IL
JT Helms
Treasurer
Old Republic Aerospace
Kennesay, GA
Craig Craft
NAAA President
Craft Air Services
Hertford, NC
Matt Hovdenes
–
Right Way Ag
Harwood, ND
Mark Kimmel
–
Dixie Dusters
Itta Bena, MS
Ray Newcomb
–
JBI Helicopter Services
Pembroke, NH
Eric Rojek
–
Covington Engines
Leesburg, GA
Anthonie York
–
Air Tractor
Olney, TX
Andrew Moore
NAAREF Executive Director
Alexandria, VA
Scott Bretthauer
NAAREF Staff Liaison
Alexandria, VA
Updated 26-Oct-2023
PAASS Program Development Committee
In accordance with NAAREF policy and direction, sets program priorities, develops and recommends program topics to NAAREF and develops program content. Members serve as subject matter experts during contracted program development. The Committee is composed of approximately equal numbers of operators/pilots and government/industry representatives. A Technical Advisory Panel augments the Committee.
PAASS Capital Campaign Committee
Composed of NAAA members appointed by the NAAREF President, the Capital Campaign Committee's purpose is to ensure the financial viability of the PAASS Program. It does this by developing and pursuing various funding campaigns throughout the life of the program.
Operation SAFE Committee
Composed of NAAA members appointed by the NAAREF President, the Operation SAFE Committee provides information to the Agricultural Aviation Industry to promote and maintain the most effective application of materials with aircraft by researching, investigating and sharing information about analysis equipment and procedures, application equipment, application methods, equipment modifications, equipment setup and product enhancements.