The Athena Project was established in 2003 to foster relationships and provide support to the women of the industry creating a national network of communication with the women of this industry.
TODAY, the Athena Project is an educational program which is designed to educate and support those who have a connection to agricultural aviation by addressing the real risk management concerns of everyday life in the industry. The program explores topics relating to the culture, connections, and safety of the ag aviation community. The Athena Project is developed annually and presented by the NAAA Support Committee.
The support committee believes that the best way to obtain their objective is by presenting a new topic and content annually at the NAAA Expo and all state and regional conventions. The Athena presenters promote audience involvement in the discussion, so participants gain knowledge from each other. Over the years many wonderful and heart-moving stories have been shared. This forum allows participants who understand the industry to offer encouragement, friendships and mentoring to each other.
The program was named The Athena Project after the Greek mythology goddess Athena who was the daughter of Zeus. She was the goddess of wisdom, agriculture and handicrafts and is usually depicted as the goddess of victorious battle. Athena was allowed to use Zeus's weapons including his thunderbolt which is our logo. She is fierce and brave in battle but fights only to protect the state and home from outside enemies.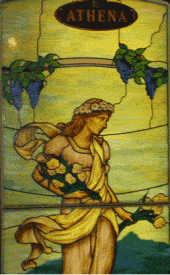 The Athena Project has five trained presenters available:
Sue Stewart, Athena Project Chair
Jane Barber Pitlick, Athena Project Vice Chair
Julie Perrin, Wisconsin
Leslie Craft, North Carolina
Amy May, Nebraska
To schedule a presentation for your state or regional association's convention, contact Sue Stewart at (940) 256-2400 or by email at dandsaerial@aol.com.
**Photo courtesy of Prince of Wales Hotel in Waterton, Alberta and Donita Lockwood**